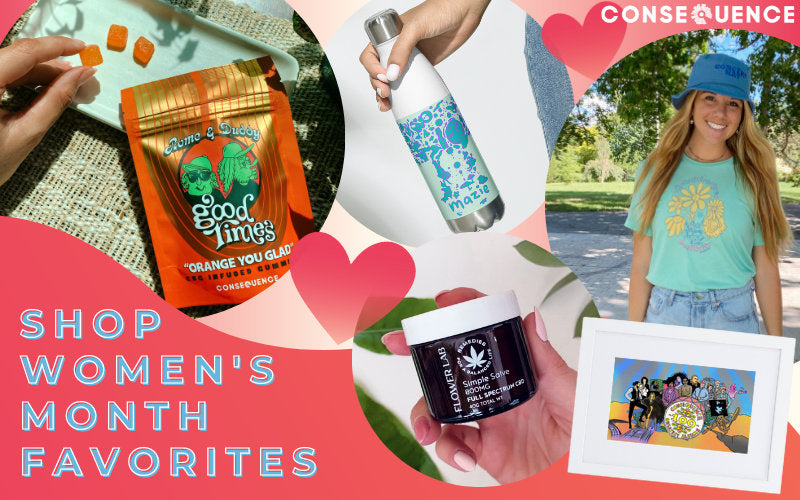 Celebrate Women's Month with Favorites from the Consequence Shop
This March, we're shining a spotlight on some of the best products in the Consequence Shop for Women's Month, rounding up ways to kick back, relax, and put yourself first.

From premium CBD to cozy merch, here are our picks for the best ways to mark the occasion this month.

Enter our CBD shop and indulge your senses with our Flower Lab Simple Salve. This completely natural topical balm is loaded with soothing botanicals and potent, full-spectrum CBD. Designed for daily use, the wonderfully bright, herbaceous formula sinks deep into your skin without leaving an oily feel, delivering hours of comfort, especially for lingering aches and pains.

If gummies are more your speed, add these Good Times Orange You Glad or Night Time Gummies to your cart. With 20mg of full-spectrum CBD and an added 20mg of CBG, these daytime gummies will have you saying, "That's all I need," as you chill throughout the day without losing any pep in your step — plus, the fact that they're super delicious doesn't hurt.

Get excited for all the great things coming up this year with some cute merch. Our cheeky Concert Hat is the festival staple you didn't know you needed; plus, hydration is always key, no matter the time of year, and our collaboration with rising artist mazie resulted in the most unique water bottle around. Or, to let everyone know exactly the frequency on which you vibrate, snag a Radiate Positivity Tee, an evergreen message that feels especially perfect for festival season.

Lastly, spice up your space with a poster of one of your favorite acts. Spring is here, and if your home or apartment needs a bit of a refresh, look no further than our collection of framed favorites. Give these music icons the treatment they deserve with high-quality prints ready to be framed and mounted.
Happy Women's Month, from all of us here at Consequence!