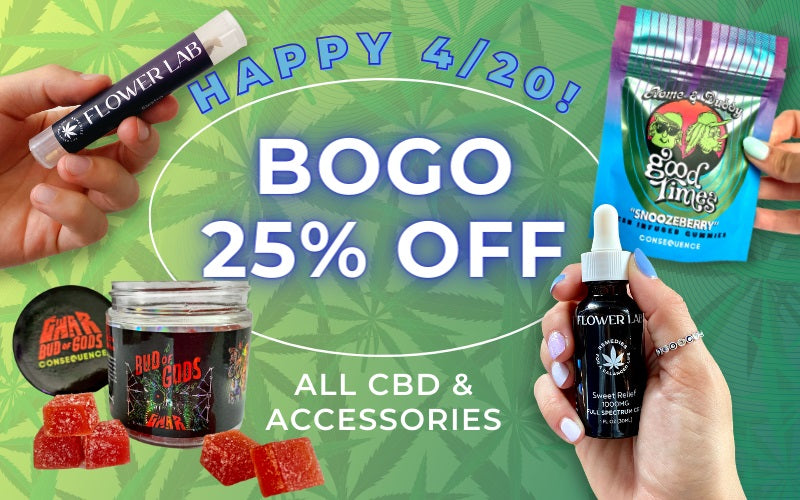 BOGO 25% off for 420 + Shop the Good Times 4g Flower Jar
It's nearly 4/20, and for the Consequence Shop, that's cause for celebration. Fortunately for us, Rome & Duddy couldn't agree more, and that's why they're offering only the best vibes and even better times with a brand new product for their signature Good Times CBD collection. Rome Ramirez of Sublime with Rome and Duddy B of Dirty Heads are back and set to launch a new version of their Good Times CBD flower, now available in a 4-gram jar.
Housed in a high-quality screen printed jar, Rome & Duddy's Good Times collection is a premium, greenhouse-grown, certified organic batch of CBD. With a premium composition featuring notes of tropical fruits and flora and a specialty blend of CBG, THCA-A, and Delta 9 THC, it's easy to see where this flower gets its name. The good times will always be close by.
The Good Times Flower Jar can be purchased directly from the Consequence Shop, where you can also get a deal on any of our other CBD lines and products during our special 4/20 sale: Starting April 10th, all CBD products on the Consequence Shop are buy one, get one 25% off. 
The deal also applies to any product from GWAR's Bud of Gods collection (such as the tincture, Delta-8 vape cartridge, or gummies), CBD pre-rolls, and others, like the wind-proof ashtray or aluminum dugout. Also available are collections from Koast and Flower Lab, including full-spectrum gummies, high-strength tinctures, and a variety of CBD flower strains. Or check out other Good Times products like CBG, CBN, and THC-O gummies; a dugout/flower bundle deal; or our metal and wooden grinders.
The promotion runs April 10th through April 30th, so you have 20 days to celebrate 4/20! Buy now before the sale concludes! (Note: Good Times Flower Jar will not be offered under Consequence's 4/20 CBD sale. Instead, check out Good Times' 4G and 8G mylar bags, which are on sale!).
Check out photos of the Good Times Flower Jar below, and find more CBD products on the Consequence Shop.