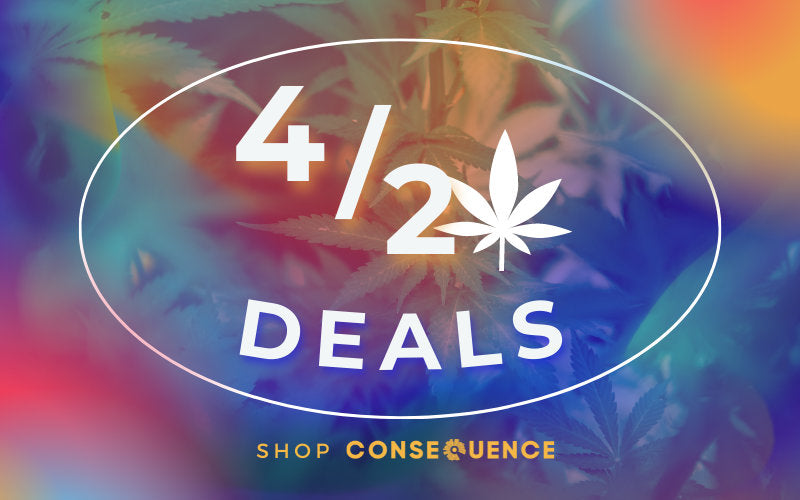 Light Up This 4/20 with Can't-Miss Specials!
Three big ways to celebrate, now on the Consequence Shop


Are you ready for 4/20? Here at the Consequence Shop, we're marking the occasion with three can't-miss deals and exciting new opportunities. With exciting partnerships offering exclusive products that can't be found anywhere else, storewide discounts, and money-saving bundles, Consequence is your one-stop shop for all things 4/20.
Let the "Good Times" Roll
Rome & Duddy x Consequence presents the Good Times collection! With flower, pre-rolls, gummies, tincture, and balm, this exclusive line sees Consequence teaming back up with Sublime with Rome's Rome Ramirez and Dirty Heads' Duddy B. After the limited edition collector's box completely sold out, this is your chance to get your hands on the next iteration of their collaboration! Be the first one to know when our Good Times Collection goes live, and stay tuned as we release more Small Batch CBD and merch in the future. Check it out!
25% Off Storewide
If that offer isn't enough, we're also offering a major discount on Flower Lab, GWAR, accessories, masks and apparel. That's right: 25% off, storewide! Have you had something in your cart, or been eyeing a new piece of merch? Now's your time to hit purchase. Enjoy the discount and start filling your online cart.
GWAR Bundle
Our collaboration with GWAR was a truly intergalactic entry into the Consequence Shop. This special 4/20 bundle includes a fanny pack, bandana, sticker 3pk, and Delta-8 Gummies (5ct or 30ct). Unleash your inner scumdog and traverse the galaxy at a better cost than ever. Shop the bundle here.

We're ready for 4/20 — are you? Start shopping now.