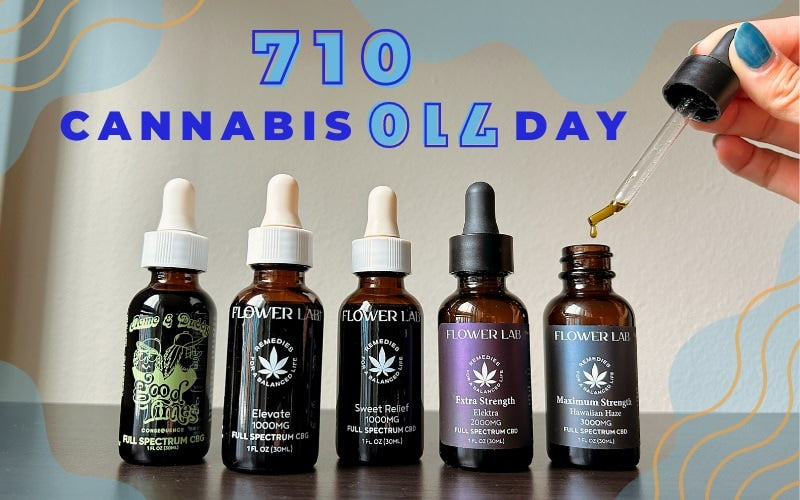 Celebrate National Cannabis Oil Day 710 : Shop for Premium Oils
July 10th is National Cannabis Oil Day! Here at the Consequence Shop, we're celebrating by shining a spotlight on some of the best tinctures we have to offer. And while we're at it, we figured we might as well throw discounts on them as well! Pick up select
premium cannabis oils
today until 7/17 for 25% off.
When it comes to some of our favorite cannabinoid oils,
Flower Lab's High Strength Strain Specific Tinctures
rank at the top of the list. A solventless extraction of pure, full-spectrum cannabinoids, this tincture brings with it newfound potency, coming in either Extra-Strength 2000mg or Maximum-Strength 3000mg. Be sure to dilute with water or another liquid, as this oil packs quite the punch!
Flower Lab's specialty oil offerings don't stop there, though, as their
Elevate Tincture
brings down the intensity without losing an ounce of quality. Delivering 33mg of whole-plant CBG extract per milliliter, the Elevate Tincture is the perfect way to boost energy, focus, and well-being. It's your daily solution to keeping a balanced, healthy mind state!
Also available is
Flower Lab's Sweet Relief Tincture
. This oil offers 33mg of clean, whole-plant CBD extract per milliliter, resulting in uncomplicated, easy relaxation. Fast-acting and long-lasting, Flower Lab's Sweet Relief Tincture promotes sleep regulation, stress relief, and all-around chill vibes.
Flower Lab isn't the only Consequence Shop collection coming through with high-quality cannabis oils, though, as Sublime with Rome's Rome Ramirez and
Dirty Heads' Duddy B's CBG Good Times Tincture
is a "blessing in a bottle." Also offering 33mg of organically farmed, Colorado-grown hemp extract, this oil makes good on its name, fostering undeniable Good Times.
Celebrate National Cannabis Oil Day with these high-quality cannabinoid tinctures! Looking for even more mind-blowing deals and promotions? We're running a Summer Blowout special! Check out all that has to offer here.