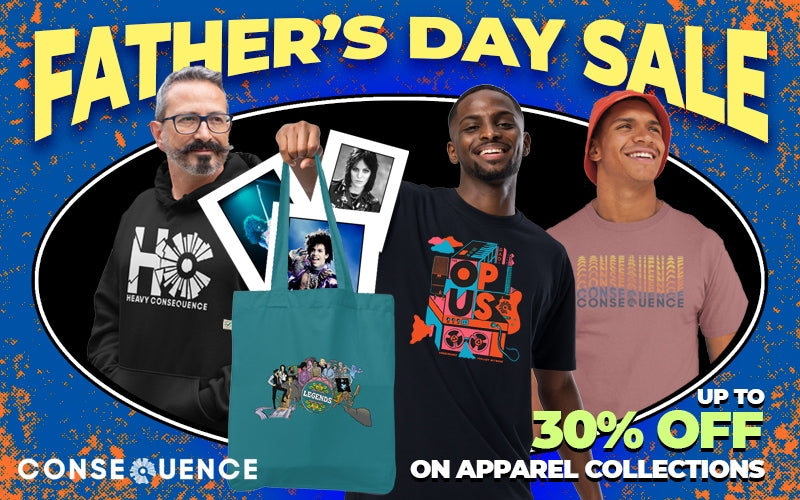 Up to 30% Off In the Consequence Shop: Father's Day Sale
Still looking for that perfect Father's Day gift? We've got you covered here in the Consequence Shop. Show your appreciation for the rockstar dad in your life with up to 30% off. 
A true dream for a music-loving parent, apparel from The Opus, Protect Live Music, Heavy Consequence, and GWAR collections are all at 30% off. Whether your father figure wants to rep their favorite podcast or kick back in a fun graphic tee, this is the place to shop. Explore everything from minimalist, throwback designs to fun, edgy options. 
For those who still spin the classics, our Legends Collection tees will be available at a 15% discount. Let your dad showcase his love for the many icons who shaped the music industry. These eco-friendly shirts are made with 50% polyester created from recycled plastic bottles blended with 25% organic cotton and 25% modal.
Additionally, our Radiate Positivity and stylish Consequence Wavvy collections will also be offered at 15% off. Encourage your parent to spread positivity and style with these vibrant and contemporary designs, all perfect for fathers who stay trendy while also keeping their love for music alive.
In addition to apparel discounts, we're also offering a 15% discount on our music prints. Elevate an office, studio, or living space through the personal touch of artwork that celebrates his favorite bands and artists. Take home legendary performances, iconic artists, and unforgettable moments, all frozen in time just for your father. Our high-quality prints are available in five frames: 11x14, 16x20, 30x40, 8x10, 20x24. From blues legends like BB King to icons like David Bowie and Prince, favorite bands like the Eagles and Fleetwood Mac, and so many more, this collection has it all. 
Don't miss out on the chance to make this Father's Day a memorable one — shop now and let the music speak for itself!