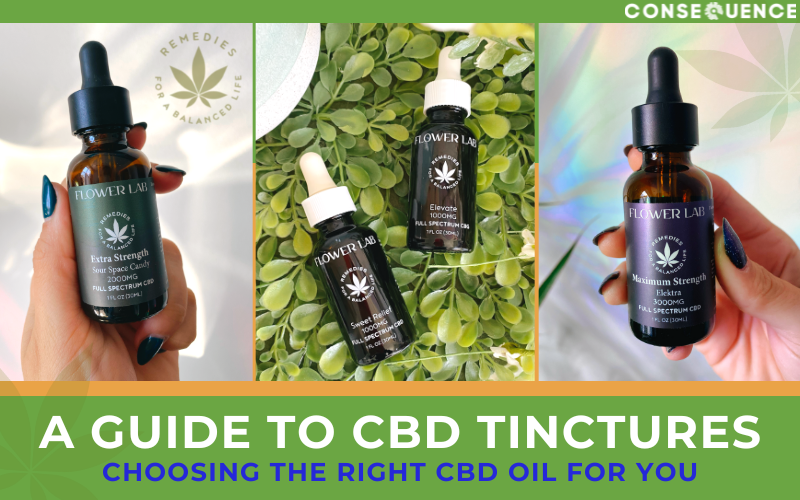 What's the Difference Between Extra & Maximum Strength CBD?
A guide to choosing the right CBD oil for you
Whether you're new to the world of CBD or interested in trying a new product, understanding potency is an important part of the shopping process. Here in the Consequence Shop, our curated collections offer a variety of options — here's how to determine which one might be right for you.
What Is CBD Potency?
CBD potency refers to how strong the product is. While there are many different potencies, there are typically three main options to explore. The majority of CBD companies produce products with 300 mg, 600 mg, or 1000 mg dosages. This means if a product is designated as 300 mg, it will be half as strong as one marketed as 600 mg, and so on.

Then, products like our High Strength Strain Specific Tincture arrive with a newfound potency — 2000 mg for Extra Strength, and 3000 mg for Maximum Strength. This type of tincture should be diluted with water or another liquid, due to its much higher potency.
Which Option Is Best?
Like many other details about CBD products, different customers prefer different things. For new users, it makes the most sense to start with a lower potency; observe how your body reacts, take your time to sit with a product and enjoy it, and then consider trying different potencies based off of your experience.

It also doesn't hurt to calculate the strength of a bottle by dividing the amount of CBD by the bottle size: 10% and lower is considered low strength, 15 - 30% is considered medium strength, and 60% and above is considered high strength, while 60% and up would be classified as maximum strength.

Take our Sweet Relief CBD Tincture, for example. This rich, solventless solution delivers 33 mg of CBD to the body with every 1ml dose, which would be 33% and classify this product as medium strength.
Do Different Potencies Have Different Effects?
Yes and no. CBD, overall,
has been shown
to help
decrease the effect
s
of anxiety, headaches, insomnia, and chronic pain. A lower-potency option will be best suited for mild anxiety, body aches and pains, and mild headaches. This is especially true for folks who might be more sensitive to CBD overall.
Similarly, moderate to high potency will better serve chronic inflammation, digestive issues, and more serious, long-term anxiety and pain. Similarly, though, it's best to observe the body's reaction to a lower potency option before diving in with more potent products.
It's also important to consider your own body mass — while BMI is not always a good measure of a person's overall health, it can be helpful in these types of decisions. Even if someone has more severe symptoms, a very low BMI can affect the results of a CBD product, and vice versa. Once again, the best bet is starting low and working up.
To explore all the options on
tinctures
,
flower
,
gummies
, and more
CBD products
in the Consequence Shop, click
here
.